As you know we are all confronted with the fall-out about of the Covid-19 (Corona) virus.
In our Luxembourg country, the government declared even the State of Emergency. Unseen in recent history !
Therefore, all our Pilots are now grounded as no private or club plane flights are allowed.
In response to the COVID-19 pandemic in Luxembourg, Research Luxembourg has established a task force to coordinate the communication and align efforts between the research institutions, ministries and hospitals in the country.
Based on requests from the ministries and other stakeholders several work packages have been defined that the task force will coordinate over the coming weeks and months.
During our AOPA Luxembourg board meeting of March 26th, we discussed how we could positively contribute to our country to help tackle this serious crisis.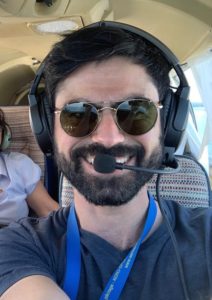 Our newest board member, Shah Agajaani, proposed a plan whereby our pilots and planes would volunteer to help the task force of the Government dispatch small medical shipments.
An initiative was promptly developed at the AOPA board level in order to reach out to the Covid19 task force of the Luxembourg government.
In less than 48 hours, the Presidents of the three flying clubs of Luxembourg decided to join this unique initiative of AOPA Luxembourg
Therefore, we managed on this Saturday March 28th after intense communications of our board members to draft and sign a common written proposal on behalf of all the General Aviation community of Luxembourg. Unique collaboration !
Our joint General Aviation volunteering proposal was delivered this evening the Luxembourg authorities.
It says,

As a result of containment measures to avoid the spread of COVID-19, flight restrictions have been put in place in the Grand Duchy of Luxembourg, as well as in certain neighboring countries, applying in particular to all training flights and leisure, except state, military, police, SAR flights.
However, Luxembourg must exploit, in these times of health crisis, all available human and material resources.
In this context, we would like to draw your attention to the real contribution that general aviation in Luxembourg can make, by making its fleet of private planes and flying clubs, as well as its infrastructure, available on a voluntary basis.
Because there is a real need for protective masks, disinfectant gels, small 3D printers, and small medical or other equipment, our planes are the most flexible and rapid means of transport that exists to ensure the delivery of said equipment from or to otherwise less easily accessible civilian or military secondary airports.
Given that the supply chain goes mainly through Luxembourg International Airport, it would be conceivable and logistically advantageous for time-critical cargo to pass directly from large cargo planes to their smaller counterparts in order to make the last leg very quickly.
It would be possible in less than an hour.
It is thus possible for us to transport any non-bulky material with a mass equivalent to +/- 300kg by plane. We have the capacity, through volunteer pilots, to transport more than 10 tonnes of medical or other equipment per day within a radius of 450 km around the Grand Duchy of Luxembourg in less than 2 hours, from or to any which civil or military airport.
The infrastructure and staff of our associations and pilots would allow efficient and rapid monitoring and dispatching of rare commodities that would save lives.
Aircraft disinfection procedures are already in place and a mission could begin with very short notice, provided that this is the will of our state and our neighbors.
The lifting of flight restrictions would obviously only concern flights intended to help in the context of this pandemic.
The individual pilot members of our associations with private piloting licenses are immediately available to establish volunteer missions, subject to adequate weather, are therefore at your service to deliver any material where the need is crucial and vital.
Ladies and Gentlemen, hoping that general aviation can make its contribution to this building in these difficult times, please accept our best wishes.
Signed by: